---
Only a decade has passed since 21st century began, but our world has already suffered a full gamut of extreme weather conditions, including severe droughts, floods, cyclones, and heat waves. Therefore, environmental protection has become an urgent imperative that must be translated into action for the continued survival of humanity. Environmental protection is more than just recycling. It is a mindset that promotes high-quality green living as well.
With the concern above, In collaboration with Jabatan Belia dan Sukan Negeri Perak and Majlis Belia Negeri Perak, Seven Major Chinese Youth Organization in PERAK as Persatuan Belia Xiang Lian Malaysia, Persatuan Belia Kristian Malaysia, Gerakan Belia Bersatu Malaysia, Junior Chamber International Ipoh (Malaysia), Persatuan Belia Buddhist Malaysia, Persatuan Usahawan Maju Malaysia, Young Malaysians Movement,Gandingan Bersatu Malaysia and The Green World (TGW) non-profit organizations are going to organize The Green World Run 2016 in Ipoh Perak.
The purpose to organize this ecofriendly event is to create a greater awareness of the environmental issues happening today among the community and creating a brighter future for the next generation. It is also one of the event's objectives to promote and create a greater awareness of the vision of a cleaner, greener and modernized Ipoh (Ipoh Bersih, Hijau Dan Maju).
The 1st edition of The Green World Run has held successfully on 29th November 2015 at Putrajaya, Malaysia. After a success previous experience, we hope to bring this meaningful event to Perak State. The Green World Run is a 10km walk and it is suitable for those who enjoy healthy walks and are passionate about the environment.
We create this fun and exciting event to highlight the importance of recycling in daily life of each individual. We believe that having a good and healthy living environment is the key to promoting strong economy, prosperous families and individual health.
These are the objectives of THE GREEN WORLD RUN 2016 are outlined below:
• To raise the awareness of environmental problems among the public.

• To educate the young generation about the importance of environment and environment protection through the activity.

• To promote the importance of living in healthy natural environment.

• To encourage healthy lifestyle through running event.

• To spread "green" messages through various media to reach large group of public.

• To develop a clean eco-tourism in Ipoh City.

• To boost tourism to Ipoh City by attracting international and elite runners.
---
Environmental conservation is a worldwide concern and the responsibility of every global citizen. The Green World Run 2016 has a number of target audiences including the general public, students and environmentally aware or "green" individuals.
Schools are the major focus in this event because we encourage students to initiate green activities since they are young. We are also welcome the people all around the world to join this meaningful event.
---
The Green World Run 2016
Venue
Padang Kompleks Belia dan Sukan Negeri Perak (Starting & Ending Point)
Date
17th July 2016
Reporting time
6am
Run flag off time
7am
Distance
10km
---
---
| Time | Detail |
| --- | --- |
| 6am | Arrival of Participants & Registration |
| 6:45am | Opening Ceremony (witness by GOH) Appearance of Miss Green World 2016 Finalists |
| 7:00am | Flag off |
| 9:30am | Race Pack Collection, Photo Shooting & Booths visiting |
| 10:30am | Award Presentation & Lucky Draw Closing Ceremony (witness by GOH) |
| 11:00am | End |
---
For safety reasons, there is an age limit for the race, all participants must be 14 year-old and above. For environment reasons, we prefer online registration through our official website to reduce paper consumption and no water bottle will be provide on the race day. All participants need to wear The Green World Run 2016 T-shirt before getting start.
* No dogs will be allowed to run.
Registration fees are non-refundable. Event registrations are non-transferable between individual, group or secondary school students.
Registration Fees
Individual
RM 65
Group (4 pax)
RM 240
Secondary School
RM 30
---
16th July 2016, Syuen Hotel 10am – 5pm

Kindly choose the size of your T-shirt carefully as they are not refundable or exchangeable. T-shirts tend to run on the small side, if unsure we recommend you opt for the larger sizes. T-Shirts for adult will be available in XS, S, M, L, XL, and XXL.

---
All participants will receive an E-Certificate and the Top 20 runners also will get a Top Achievement Certificate through the website link that provided by the organizer whereas all participants finish the race will get a Finisher Medal.
---
All the participants will get one The Green World bag, a recycle bag that made of biodegradable materials and can be reused as shopping/ grocery bag in the future.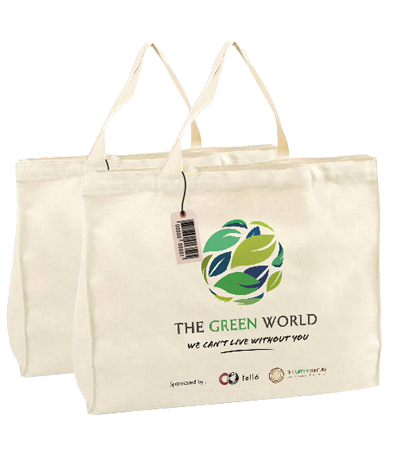 ---
| | |
| --- | --- |
| Date | 17th July 2016, Sunday |
| Time | 9.30am |
| Venue | Padang Kompleks Belia dan Sukan Negeri Perak |
---
The Green World Run relies heavily on volunteers for variety of jobs, before and on the Race day. Some of the key areas where volunteers help is required include packing the goodies, start & finish area drink stations, usherer around the race venue, crowd control at the finish line and check out area runners. We will invite St. John Ambulance or Malaysian Red Crescent Society to support and help the running event.
---
To make this event more fun and interesting, we will set a Green Photo Booth on the event day. All participants can easily join the photo contest by uploading their most creative photos at our Green Photo Booth on our official Facebook Page to win attractive prizes too.
---
Race will be held, rain or shine, unless The Green World determines that conditions are too dangerous. This will be based on a prudent decision made on race weekend or race day by The Green World and local law enforcement officials. If the race is cancelled due to inclement weather there will be neither refunds nor transfers. In the event of inclement weather or unforeseen circumstances, The Green World reserves the right to alter, cancel or eliminate any/all portions of the race.
---
---
Like Our Facebook Page Now to Receive Updates About This Race.
---
We care about the impact that THE GREEN WORLD RUN 2016 makes on our environment, and have initiated a number of measures to work towards a much greener Marathon, including:
• Online registration and donation to reduce paper and to provide convenience to runners and donors.

• The runners pack bags are made of bio-degradable materials and can be reused as shopping/grocery bag in the future.

• No bottled water will be provided for environmental reasons. Please bring your own drinking water for the race.